How can reflexology help you?
'The Chinese believe that reflexology stimulates the body into healing itself by improving circulation, reducing stress, pain and restoring natural balance. 'A therapist may massage your big toe and ankle to calm your endocrine and reproductive system, helping relieve PMS or menopausal symptoms.'
Reflexology has many health benefits*
Relaxation. …
Improvement of Your Nerve Functions. …
Improvement In Your Brain Power. …
Increased Blood Circulation In Your Body. …
Eliminating Your Body's Toxins. …
Boosting Your Metabolism & Energy Level. …
Reducing Your Headaches. …
Relieving discomfort from Menstruation & Pregnancy.
The focus of the session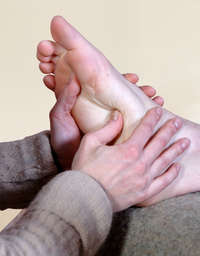 Regardless of your health condition(s) (for example, migraine, nausea, sciatica, etc.), the reflexologist focuses on the entire pattern of the reflexology therapy, starting at the toes and working down the foot. A complete reflexology therapy session uses many different techniques and includes all of the points on both feet (and perhaps the hands and ears).
By working all of the points, the reflexologist addresses internal organs and glands as well as muscle groups, bones, nerve ganglions (solar plexus, brachial plexus) and nerves (sciatic) during a session.
If you have a specific condition, such as migraines, the reflexologist will carefully feel and work the area corresponding to the presenting problem. However, they will also work all areas of the foot with gentle pressure, because, according to reflexology theories, this allows the nerve pathways and congestion to release and promotes the relaxation response for the entire body.
Come and enjoy a session with us today for only
£ 35