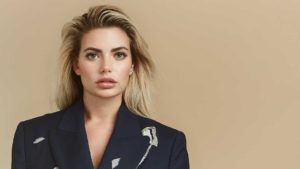 She's the woman we spent our summer obsessed with – and now, Megan Barton-Hanson is on the cover of Grazia, giving her most revealing interview ever.
In a wide-ranging chat – out on newsstands now – Megan opens up about the 'sexist' treatment of contestants, her much-debated plastic surgery and self-confidence issues… and the explicit videos of her that have leaked onto the internet.
Talking about one video of her that has landed on website Pornhub, the former lap dancer and glamour model, tells Grazia: 'I'm going to try and get it taken down. But I think once people have seen it, they've seen it and we've all got a vibrator… Let a girl live!'
During her time in the villa, Megan became the subject of national debate when it emerged she'd spent a reported £25,000 transforming her looks, after making the money dancing and modelling. But the Love Island star, who found love with Wes Nelson after dating several other contestants, is staunch in her defence of her surgery – and how she earned her money.
'I worked so hard to get all the money I could and I feel like I can spend it any way I want,' she says. 'If it makes me feel better I don't know why that's seen as a negative thing? I was still beautiful in my own way back then, I've just changed a few things. I was comfortable then and I'm comfortable now.'
Talking about stripping, she adds: 'I did it for a year – I got in, I got out, I earned my money, I didn't hurt anyone, I don't see why it's so negative. Men enjoyed it, I enjoyed it, couples came in… everyone is happy!'
Megan received a huge backlash on social media and in the press for being candid about her sexuality, and dating several men in the villa – something she now believes is sexist. 'People definitely do give girls a harder time than men – look at Adam, how many girls did he go through? It's sexist,' she says. 'They're painting me out to be the biggest player, but it's a dating show and I tested the water.' She added, 'It's 2018, and women are still getting stick for acting like men, I don't see why we're not equal. Even with the fact that I had sex in the villa, I'm open about that. Women enjoy sex just as much as men. Like, why can't we say it? We should empower each other.'
But Megan also speaks openly about the self-confidence issues that have plagued her all her life – and endeared her to many women watching Love Island. 'People don't understand: how could you possibly be shy and insecure but comfortable being naked,' she says. 'To go up and speak in front of people, that would be my absolute worst nightmare. But to go and parade around half-naked, I'd be absolutely fine. You can be shy in different ways.'
Addressing why she went on the show, Megan reveals how unlucky in love she was, saying, 'I was getting the worst Bumble dates ever. I ran away from one, I got egged on one! I had people telling me they thought I was a catfish so they didn't turn up.'
For much more from Megan, pick up this week's Grazia, out now