The Lazy Girl's Guide to Training for a 5K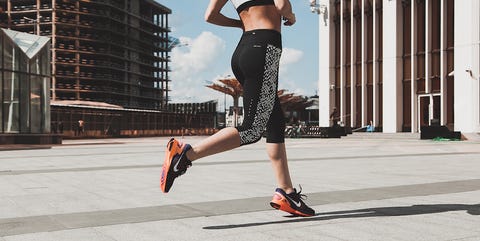 If you've never run a 5K, running 3.1 miles straight can seem a smidge daunting. But, girl, you got this. If you can put one foot in front of the other for 20 minutes right now, you can slay a 5K with just six weeks of fairly chill training designed by New York City-based certified running coach Elizabeth Corkum to get you over the finish line feeling good.
THE PLAN
Designate three non-consecutive days of the week for training (like Tuesday, Thursday, Saturday, which gives your muscles time off to recover). After a quick warmup — try jumping jacks and bodyweight squats — move for the time allotted in the schedule below at a pace that allows you to hold a conversation. (Taking breaks to walk is totally allowed but you should gradually increase the amount of time you spend running.)
Pin the photo above to save this plan for later!
PRO TIPS
Stretch after you run. After each training session, reduce soreness by foam rolling your butt, quads, hamstrings, and calves. Or squeeze in some stretches like toe touches and quad stretches, the one where you stand and kick your heel to your butt and hold it, keeping the knee pointing down for 30 seconds before switching sides.
Drink up. While training, aim to drink a minimum of eight cups of water a day. (Since you'll be sweating, nay, ~*gLoWiNg*~, more, rehydrating is key, Corkum says.)
Fuel up with regular food. Eat a light snack like a banana or a cup of Greek yogurt an hour or two before each training session. Since you're not running long enough to deplete the sugar stored in your muscles, aka glycogen stores, you don't need those fancy gels or energy bites, Corkum says.
Don't skimp on sleep. "Sleep repairs your muscle cells, which is really important as you train," Corkum says.
Relax on days off. If you're feeling extra, take a gentle yoga class, she says. (Or you could always try these exercises that make running feel easier.)